FREQUENTLY ASKED QUESTIONS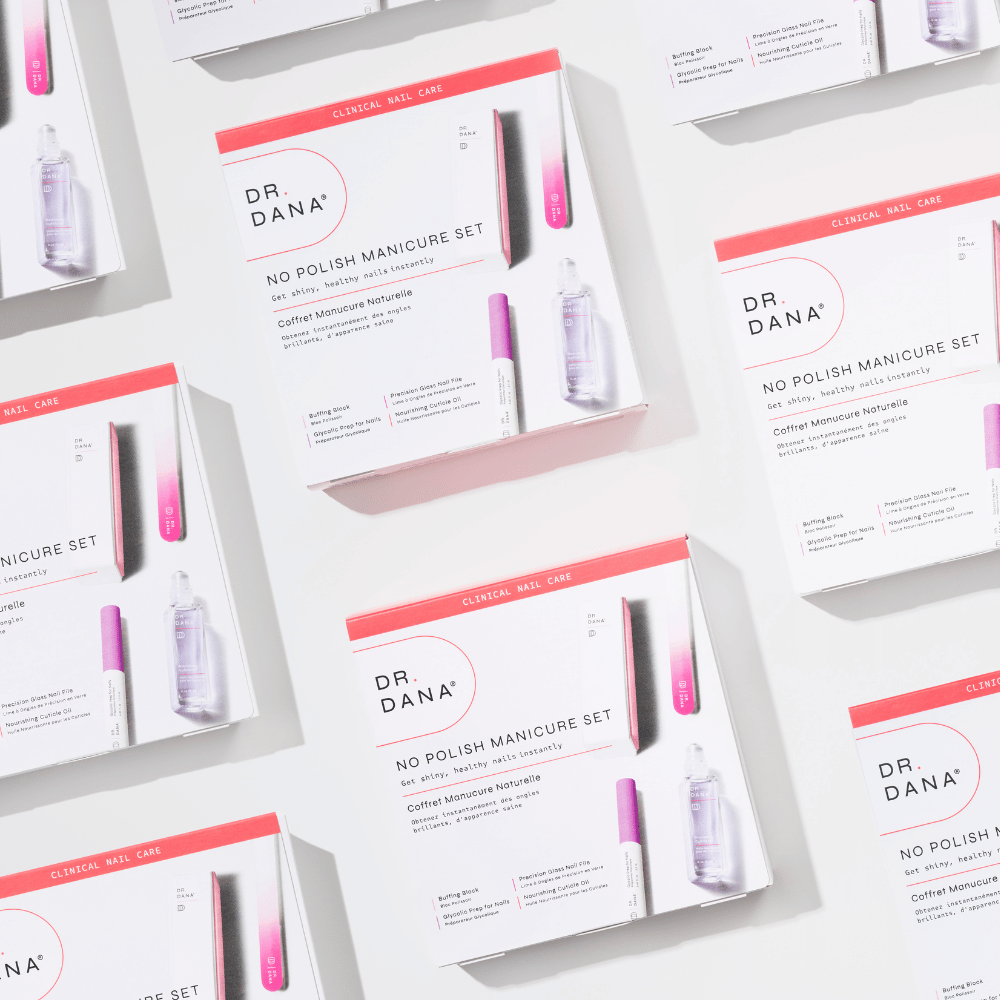 Usage (Nail Renewal System)
Anyone can use this system! Whether you suffer from brittle, peeling, dry, or damaged nails or you are looking to give your nails a healthy, polish-free shine, the Dr. Dana Nail Renewal System can instantly treat your fingernails and toenails.
Yes! You can use the system to help keep your nails looking strong and healthy or to create a chic, long-lasting, lustrous shine without the use of polish or harsh chemicals that damage the nails.
Absolutely! The system will instantly improve the appearance of your nails. Your nails will be healthier and smoother, even if you choose to continue with polish, gels, or enhancements..
Yes, your toenails deserve to look gorgeous too! The Nail Renewal System can be used on either your fingernails or toenails.
Usage Timing (Nail Renewal System)
The application process generally takes 10 minutes for 10 nails. Make sure to massage in the Deep Hydrating Formula (Step 3) and allow it to fully absorb into nails and cuticles before washing your hands.
If you treat your nails once weekly, each package has enough product to last for approximately three months. This amount may vary based on how often you use the system. If you use Step 3 throughout the week to hydrate your nails, you may find that you need to replenish that product earlier.
The system is meant to be used once per week (particularly Step 1: Glycolic Prep for Nails); however, if your unpolished nails need some extra shine mid-week, you can use surface 03 of the priming wand, followed by Step 3 to give your nails a shine boost! And if your nails are already polished, you can simply use Step 3 for an extra hydration boost for your cuticles.
No. The ingredients in the Dr. Dana Nail Renewal System are good for your nails and cuticles and do not need to be cleaned off.
We do not recommend applying nail polish to newly treated nails. Immediately after using the system, your nails will look and feel smooth and shiny without the need for polish. If applying polish, wait at least one hour for maximum efficacy of the system, and then you may apply polish to your clean nails.
Steps 1 & 3 (Nail Renewal System)
Before initial use, you should prime the Step 1 pen, by twisting it repeatedly to the right until the formula appears at the tip. It may help to apply pressure to the bottom of the pen with the other hand, while twisting. This may take up to 1 minute. Subsequent applications should require less priming (if needed at all.
A thin, even coat of Step 1 is all you need! Twist the pen until a droplet appears—this is enough treatment for up to five nails. If your nails are short, you may have enough product for more than five nails. Allow the product to dry completely prior to Step 2.
Again, a thin, even coat of Step 3 is all you will need. Brush a generous amount of the formula onto your nails, cuticles, and surrounding skin.
Ingredients (Nail Renewal System)
Please find ingredient information here.
No, it does not! The Nail Renewal System is free of Formaldehyde, Formaldehyde Resin, Dibutyl Phthalate, Camphor, Toluene, artificial fragrances, dyes, alcohol, and parabens.
Share details about your shipping policies, item returns, or customer service.
Returns & Refunds
Yes, we offer full and partial refunds within 30 days of purchase if you are unsatisfied with your order.
A refund request can be submitted within 30 days after the purchase is made.
When an order does not include free shipping, all shipping costs (including the return shipping) are handled by the customer.
When an order includes free shipping, only the cost of the return shipping is handled by the customer.
Shipping & Delivery
Standard shipping can take up to 7 - 10 business days
Shipping rates can vary depending on your region and are calculated at checkout.
Yes, we offer free shipping on qualifying orders over $35.